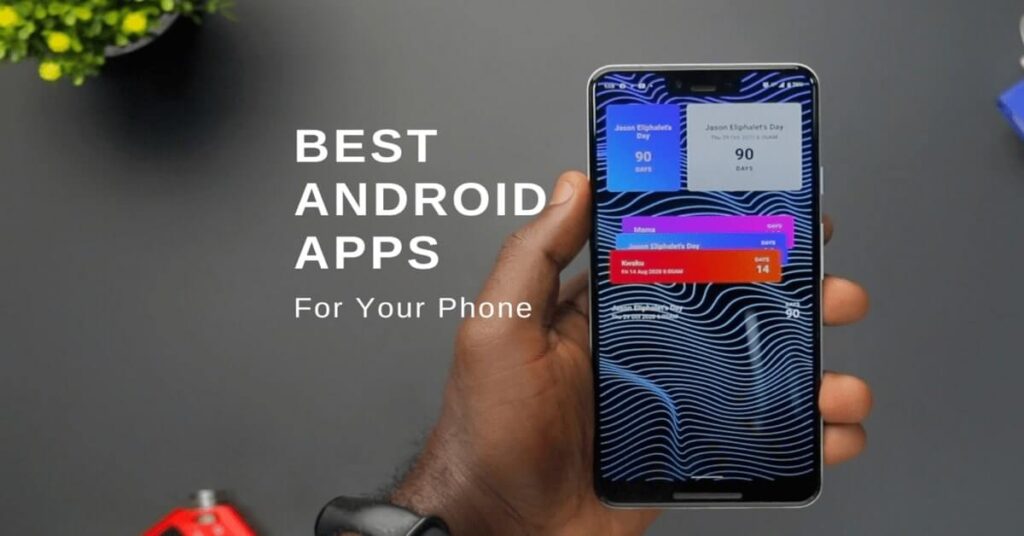 Android evolves greater each year however, apps continue to be simply as essential as ever. Android Phone Apps and TV Apps make our life easier and time-saving. Here are the best android apps for your phone that you should get now.
Handwriting to Text
Undo Notification
Computer Launcher
ScreenMaster
Yuka
StarryAI
Fuelio
Plane Finder
Apple for KWGT
Dusky Walls
The first application is called Handwriting to Text. Well, the name pretty much says it all. With the app installed, you just tap to capture an image, point your phone's camera at any handwritten text, and snap the shot. Then you crop the images if need be tap, crop, and within mere moments the app will super accurately convert that writing into digital text, which you can then copy, share or even save as PDF or text-based documents. Now the design of the app is nothing to ride home about, but it works with a huge range of languages, and it's crazy fast and accurate, so definitely worth a try.
The second app is called Undo Notification, which is an app that doesn't really need a whole paper explaining. But once the app is installed and you've granted it notification access. Anytime you accidentally swipe away a notification from your notification panel, you can just jump into the app and tap on Undo. That notification will then reappear in your notification panel, and it'll even still retain all of the quick actions from the original notification, like quick replying and marking a message as read. The app even comes with quick settings toggle making it even easier to quickly restore any given notification.
Next up we have a computer launcher, and this is an app that got a feature. I am just so impressed at how this app is implemented. Once you installed this app you will see a home screen launcher that emulates a Windows Desktop style experience. It comes complete with a taskbar and a start menu for that really authentic Windows Experience, and the dark menu is obviously where you can access all of your apps and settings. There's even a full-on Quick Settings menu down the bottom, which looks great and works really well. And then what's really impressive is that the launcher also comes with an inbuilt file browser. It might not be a launcher that I'd use full-time, but it's still a heck of a lot of fun to experiment with.
The next one we have is screen master. And this is a really useful screenshot and photo markup tool. The packs in a whole heap of handy features. Once the app is activated, it'll place a little toggle on your screen, which, when tapped, will capture the screenshot. You can then use the various editing tools to modify the screenshot right then and there. But what's really cool is that you can also use this stitch shortcut to essentially take overlapping screenshots of a long page, and then the app will automatically stitch them together to create a long screenshot. This is a feature that has really only been made available by default within Android 12 or later. So it's great that there's a third-party alternative for anyone using a phone without the feature built-in.
The next up on the list is Yuka. And this is a really well-implemented application for deciphering what's in your favorite food and cosmetic-based products. So the app actually allows you to scan the barcodes found on any food or cosmetic-based products you like. And after doing so, we'll instantly provide you with a detailed look. At the ingredients used in that product. But then what's really cool is that it will actually then provide you with ratings based on how the product will impact your health. This means if you're at the shops and you want to know whether a product is good or bad for you, well, just open the app, scan it, and there you go.
There's the app called Starry AI. And if you've all been impressed by all of the AI-based art generators that have been doing the rounds online lately, then you'll probably be just as impressed with Starry AI. Now the app comes with five free daily credits to get you started, and if you want any more, then you'll obviously need to upgrade to the Pro version, but all you do is select your Image style Ultair or Orion then type of problems like mesmerizing planets surrounding Earth. Then you can add any styles that you like of which there are heaps to choose from, and once you're done you hit create the app will then notify you when the artwork is complete, or you can even watch it develop in real-time, which is pretty cool but just like all of the other AI-based Art generators. The results are seriously impressive. Going to browse through other artworks created using Starry AI and it really is a fun concept worth trying out.
Following that is Fuelio and with the ever-increasing process of fuel around the globe at the moment, an app like this is even more useful than ever. The app essentially uses your location data to analyze all of the petrol stations in any given radius around you and you can then quickly see a summary of what petrol stations are offering the best prices. How far away they are from you. Yeah, I believe in showing you average prices and even price comparisons, which is pretty neat. Plus you can also use the inbuilt Calculator tool to determine how much you might need to spend on petrol for any upcoming trips you might have planned. The app is also completely free, which is amazing.
The next one is Plane Finder. And as the name so healthy implies, this is an app that lets you track planes and flight paths in any given location. So whether you need to keep an eye on plans for your own travel purposes, or because you're perhaps picking someone up from the airport, or maybe you can hear a plane overhead and you just want to learn more about it. Well, all you need to do is open Plane Finder, search for the flight number, or just tap on any of the animated plane icons, and you will instantly see more details about that flight, including the airline, how far through the trip it is, whether it's on time or delayed, even altitude and speed information. Plus, there's a heap of additional information as well, which is super impressive. And whenever you tap on this little plan or helicopter icon, they'll even show you where it's already flown, which is really cool. It's a really useful and impressive application with a solid design to go with so well worth trying out.
Switching to Apple now and hot off the heels of the latest iOS16 beta. One of the all-time great Widget Pack called Apple for KWJT. At the time of making this video, the Widget Pack comes with a whopping total of 118 beautifully made Widgets and as the name indicates, all of the Widgets are highly inspired by iOS 16 itself. As with all of Rogers packs, there are super minimal and claim widgets and they're also highly complex in detail widgets. So there's absolutely something in there for everyone.
Now, if you're looking for a top-shelf wallpaper to go along with your newly downloaded iOS-inspired widgets, then may I present to you Dusky Walls this is a beautifully designed abstract-based wallpaper pack. Instead of vibrant Wallpaper Dusky feature more AMOLED-friendly backdrops. At the time I'm making this video, the pack features 70 unique backdrops. The app has been getting updated nearly every single week with new wallpapers, so I'm sure there will be plenty more to come going forward if you're looking for an abstract wallpaper that doesn't blonde you at night, well. Dusky Walls is a seriously great option