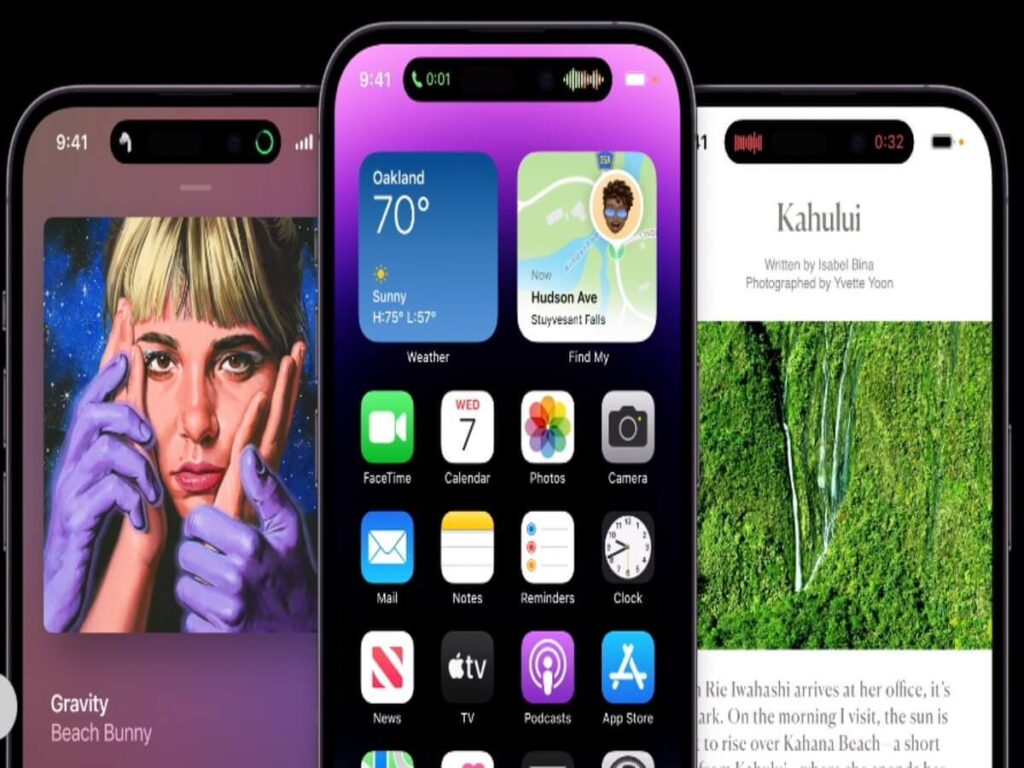 iPhone 14 Pro and Pro Max models feature beautiful and strong surgical-grade stainless steel. Durability features include the ceramic shield and water resistance. Let's discuss new features.
Colors
iPhone 14 Pro models come in four gorgeous colors. 
New Space black. 
Silver
Gold
Deep Purple 
Dynamic Island
iPhone 14 Pro introduces a new front design that is sure to become iconic. It starts with the new TrueDepth camera. We redesigned all components to fit into a smaller size using 30% less area. We put the proximity sensor behind the display for the first time. With this change, reconsider how you interact with your iPhone throughout the day, you experience different types of alerts and notifications, and these are often happening while you're doing other things on your iPhone. 
Developed a new experience that's even better. When the truly blurs the line between hardware and software calling it Dynamic Island. Designed this new space to be highly adaptive. So can fluidly expand into different shapes using uniquely crafted animations and transitions. So now when you're receiving the alert, the dynamic island expands to notify you. This works across the entire system for things like confirming your AirPods are connected muting or starting a charge. Each alert has its own personality. It's been designed with his own unique character. Making it easy to identify the glance like when you're using Face ID or tapping your iPhone in transit locations. The dynamic island also displays ongoing background activity. Look when you're playing music. We swipe to go home. The music app gracefully morphs into Dynamic Island. Always sang, active, and visible. We've designed Live Activities, a new feature on the iOS 16 Lock stream to work seamlessly with Dynamic Island, including support for third-party apps. 
PRO Display
iPhone 14 Pro has a stunning new display. iPhone 14 Pro and iPhone 14 Pro Max come in two great sizes now with even thinner borders, more active areas, and the dynamic island. It is also brighter.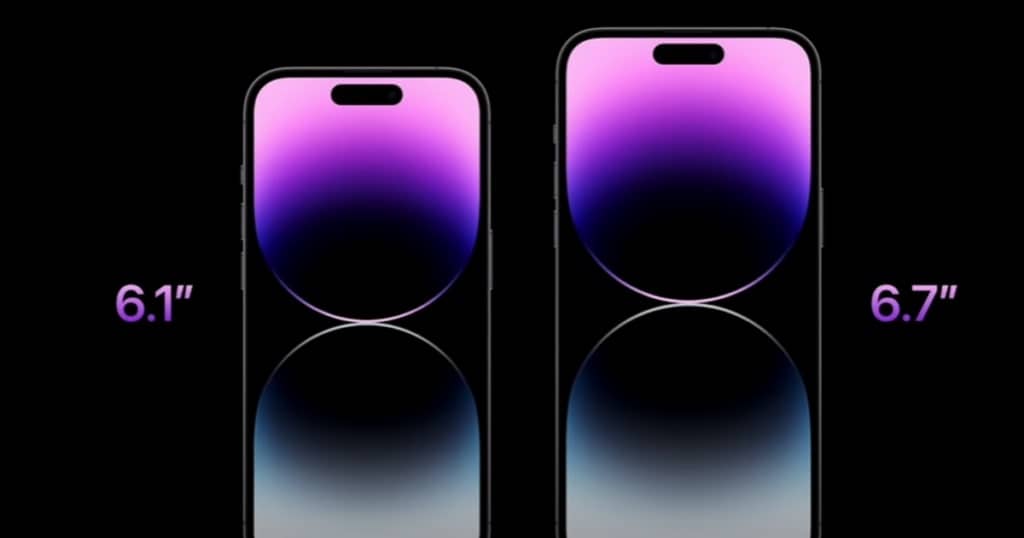 The new display provides peak HDR brightness of 1600 nets bringing the iPhone to the same level as the Pro Display XDR. For those bright sunny days iPhone can now push brightness even higher to a peak of 2000 nits that's twice as brightest before and has the highest peak brightness of any smartphone. It's easy to see the time and other important information without raising your iPhone or tapping the display. This keeps essential information available for the moments where all you need is just a glance. 
A16 Bionic Chip
iPhone 14 Pro is powered by our new A 16 Bionic chip. A 16 has nearly 16 billion transistors. The most ever in an iPhone. This is our first chip built on a state-of-the-art four nanometer process, enabling greater efficiency. While delivering even more performance.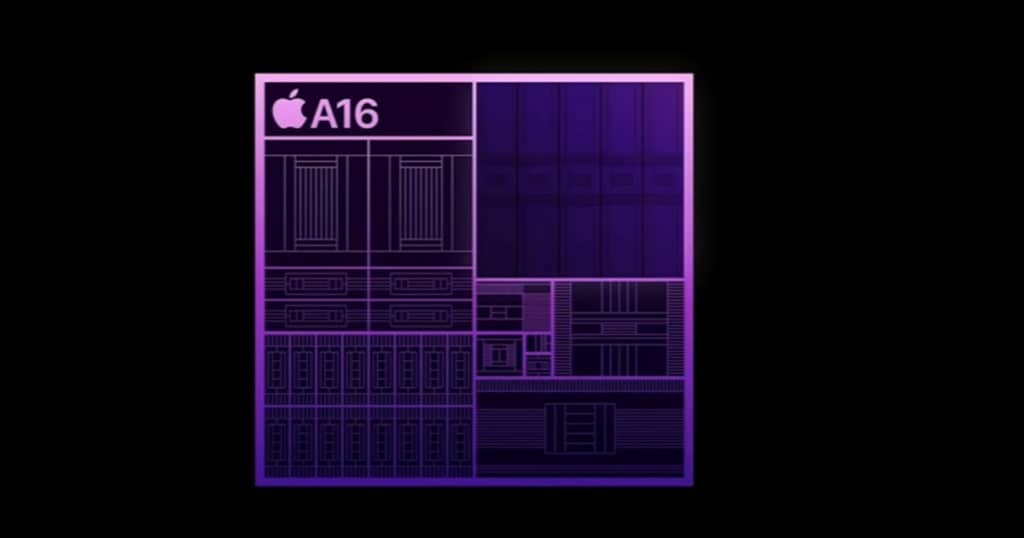 In fact, a 16 Bionic is the fastest ever in a smartphone it's up to a whopping 40% faster than the competition. A 16 also flexes every muscle for the iPhone Pro camera system. It uses the CPU, GPU, and ISP to perform up to 4 trillion operations per photo.
Camera
iPhone 14 Pro introduces a brand new class of cameras to iPhone. A 48 megapixel with a quad. It's our largest sensor, yet 65% larger than 13 Pro combined with the photonic engine. The new main camera has up to two times lowlight improvement for Photos compared to iPhone 13 pro. We're also using the new sensor to optimize for detail in ProRAW. ProRAW merges the best of our intelligent computational photography with the benefits of the raw formats. Giving Pro photographers full creative control. You can now shoot ProRAW at 48-megapixel resolution. iPhone 14 Pro also has a new Ultrawide camera with a larger sand ensor, more focal pixels and together with the Photonic engine, delivers a massive upto three times improvement in light capture for Photos the Flash was completely redesigned for a new adapted behavior based on the focal length of the photo and with the new photonic engine. All cameras are off iPhone 14 pro gets a dramatic improvement in low lights performance. 
Pro Videos
iPhone is the only smartphone to shoot in ProRes and the only device in the world with an end-to-end workflow in Dolby Vision HDR.
Cinematic Mode
Cinematic mode gets a great update now supporting up to 4K resolution in 30 frames per second for even more detail. Pro filmmakers can also choose to record in 4K at 24 frames per second the Cinematic standard. This is the biggest leap ever for the iPhone camera.
Battery Life
iPhone 14 Pro delivers all-day battery life. This is the best iPhone ever created. 
Prices
iPhone even with these groundbreaking features.
iPhone 14 Pro still starts at $999
iPhone 14 Pro Max starts from $1099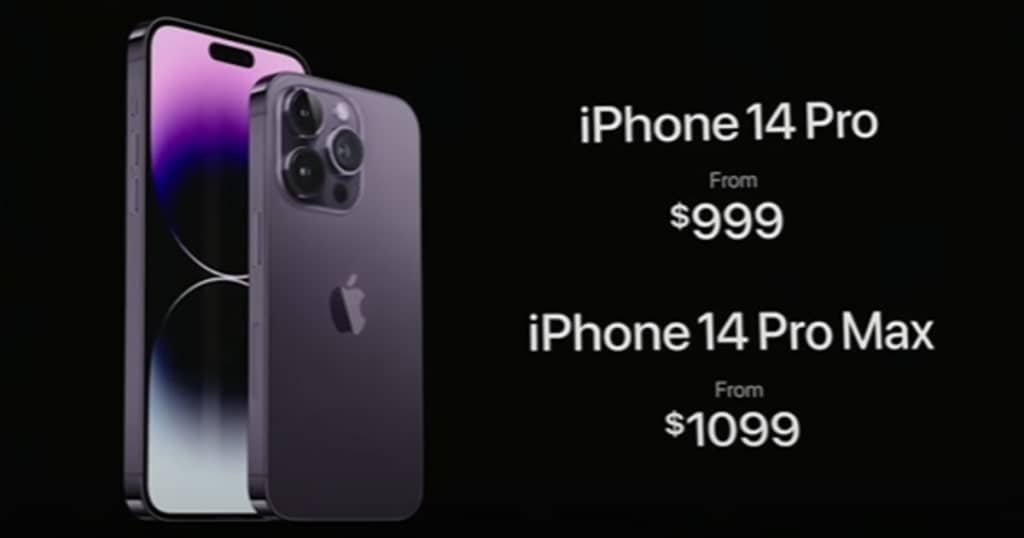 SOS Via Satellite
You can rely on your iPhone every day, and now it can even help in emergency situations time. iPhone 14 Pro will be able to communicate satellite with emergency SOS. Allow you to deliver critical information to emergency services like places where WiFi and self-service are unavailable.
Crash Detection
This is a feature we hope you never have to use Crash detection. Using a high G force, accelerometer, Gyroscope sensors, and machine learning algorithms. iPhone 14 Pro can detect when there is miss a beer car crash and automatically call Emergency services.